Above & Beyond 2019 Seminar.
FRIDAY 22nd to SUNDAY 24th of FEBRUARY 2019
This will be the sixth year that we have hosted the Above & Beyond Seminar at the Windsor Hotel and we are delighted to have some of the countries best tutors with us for 2017. We believe that they will inspire, motivate and stretch the students to make their good better and better best.
At The Healing Light Spiritual Centre we are passionate about bringing out the best in our students, believing fervently that development is a road of never ending self improvement, one upon which you never stop challenging yourself to dig deeper or stop learning. We are all familiar with the saying; "practice makes perfect" right? Wrong, only perfect practice makes perfect! This is why immersing yourself in a seminar away from your regular environment with inspirational tutors is so important. It provides opportunity to try new things, analyse what we do and how that can be improved. Our ethos being that we should all strive to make our mediumship better and even more meaningful.
At the seminar our tutors are able to coach all abilities and this can range from those who have just started their journey, to others who may already be demonstrating themselves or are tutors in their own right, but all are treated as equal. The most important thing is to match the needs of the student as much as possible and at times students will move into a class more suited to their development at that point in time so as not to hold them back or alternatively, the tutor being required to 'take the time it takes' with each student to give them the confidence to be the best they can achieve on that day. It is important to remember that each is an individual and as such must pursue their own path in their own way in their own time. We want our students to cross that bridge between "I believe" (uncertain) to "I know" (Confident without ego) as this is where real learning happens.
Given the superb service we received from the Windsor Hotel over the years, we feel that we are offering students a great seminar package at a very realistic price. Therefore, we would like to offer you the opportunity to join us next year. The hotel is the ideal choice for our Seminar as it is situated in a quiet location and provides some of the most comfortable and relaxing rooms in Worthing which have been designed and decorated for your comfort. During the evening you can enjoy a relaxing drink in the licensed bar and dine in the excellent restaurant.
The Windsor is the ideal choice for our Seminar as it is situated in a quiet location and provides all our students with some of the most comfortable and relaxing rooms in Worthing which have been designed and decorated for your comfort. The Windsor also provides excellent and flexible conference facilities. Unwind and recharge before our busy programme with a relaxing drink in the licensed bar and dine in the excellent restaurant.
Included in the seminar package are;
Programme of classes with our tutors open to all levels
Meals; Breakfast, buffet lunch, evening meal and light refreshments during breaks.
Same price bedrooms for our seminar, all of which are double sized air-conditioned and en-suite with access to the hotels complimentary Wifi network. They are also double glazed and all the rooms have LCD TV's* with the full range of freeview TV and radio channels. A welcome tray, safe, hair dryer and ironing centre are standard features in all rooms. Rooms will be allocated according to occupancy.
Car parking as available and complimentary on street parking vouchers.
The price for the seminar package is £322. However, if you share a room, this comes down to a very reasonable £258 which is what most people did for our 2018 seminar.
Non resident package at £190. (See booking Terms & Conditions)

– Ask Cherry about our Seminar Savings Scheme to spread the payment
We are sure this will to be a great weekend at a quality hotel, with highly motivated and inspirational tutors.
To find out more visit the hotels own website www.thewindsor.co.uk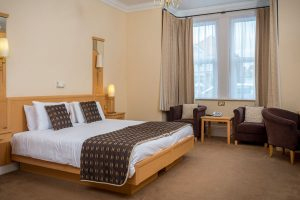 Booking;
To obtain a booking form email dwoo745786@aol.com putting "Booking for request" in the subject line. Alternatively telephone Cherry on 01273-422892 and she will send you one by post.
Venue address;
The Windsor Hotel, 12 -20 Windsor Road, Worthing, West Sussex, BN11 2LX.
Travel;
Road: The Hotel is just south of the main A27 in the central east of Worthing town.
Rail: The hotel is equidistant from either Worthing Central and Worthing East stations, followed by a short taxi ride.
Air: The closest airport is Gatwick followed by a further 30 to 45 minutes by taxi. Alternatively, Gatwick - Brighton - Worthing by rail from the airport. The hotel is then a short taxi ride from Worthing (east) or Worthing (central) Station.
Event Organisers
Cherry O'Sullivan. Healing Light seminar organiser
Cherry is the principal organiser of all of the Healing Light Spiritual Centre events at our venue in Shoreham by Sea, West Sussex. She has been fascinated by Spirit for many years, at first attending demonstrations, eventually becoming a 'member' of the Healing Light and beginning her own journey into development. She now runs her own development circle, workshops and has started to give public demonstrations.
Cindi Hatchard. Assistant seminar organiser
Like Cherry, the lovely Cindi started coming along to our demonstrations and ended up becoming one of our very active members. If you come along to a demonstration, she is the person likely to take your money at the door and sell you a raffle ticket! Cindi is also an enthusiastic member of one of our associated development circles. If you have any queries over the weekend, Cindi will try to sort them out for you.
Follow Cherry and our Tutors on Facebook
You can pay by Paypal or make a CREDIT CARD payment - (full payment). Please note there is a surcharge to cover Paypal costs.
Please email celia@thehealinglight.net for a payment link - thank you!